Food Service Automation Solutions
Intelligent Design
for Food Service Management
This is the most accurate food service system for yield, nutrient and cost analysis.

The Menu is singularly the most important asset in any foodservice operation. It is the Blueprint, Road Map and Business Plan for your operation. It tells you everything you need to know to run your enterprise successfully: what type of equipment will be used, what skills your staff must have, what market will be served and controls budgeting and finance. MenuLogistics uses Integrated Intelligence to provide maximum efficiency and effectiveness for production, service, patient safety and cost management.

MenuLogistics' Food Service Management System is Where Everything Comes Together Perfectly.
Inventory & Recipe Logistics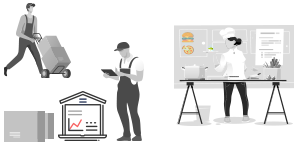 The system is ERP based.  The logic was developed based on years of experience working in legacy systems and identifying areas of enhancement to ensure quality, quantity and safety is upheld at the highest degree.  The level of precision in which recipe yield is calculated by the system results in exact nutrition content, cost control and reduced waste.  The calculations completed in the ML system are unparalleled in the market.
Inventory Management provides for par, balance on hand and perpetual tracking protocols on an item-by-item-basis. Stock Take/Stock Requisitioning is also available. Products are received, distributed and forecasted automatically and in return the adjusted balance on hand is calculated along with the inventory value. There are an unlimited number of storage locations which are supported with min/max item assignments.
Inventory Bar Codes are available to automate inventory, receiving and floor stock management. ML accommodates an unlimited number of SCC, UPC and Custom Bar Code Assignments to each item.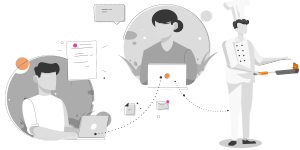 Automates the entry of "one time" and "standing orders" for special event services. Events can be created from a set of standard menus or a la carte. Orders are automatically updated into the Purchase Order requirements for timely delivery and updated into the associated Production Schedules. Billing can be cost-charged to cost-centers or interfaced to the Finance Department.
ML's client food service development reps work with your Food Service Management team members to customize all catering to meet the needs of the represented service points within the department.
Analytic Report Generator