Comprehensive
Clinical Nutrition Workbench
A One Stop Shop Workbench
for Acute Care Dietitians


The workbench is a standalone clinical nutrition management system, integrative with all HIS and separate from all F&NS Management Systems.

This is a dietitian's dream – a comprehensive single dashboard supportive of the Academy's Nutrition Care Process, ASPEN's Guidelines for Nutrition Focused Physical Assessment, equipped with all eNCPT terminologies. The system ensures each and every clinical nutrition documentation regulatory requirement is met and compliant. The communication between RDs and MDs is vastly improved, allowing for expedited implementation of intervention procedures for each patient.  Pre-built with all the essentials, the workbench is also 100% customizable to each individual hospital clinical nutrition department's needs.

The ML system communicates with the electronic medical record in use through HL7 and FHIR interfacing. Goes above and beyond capabilities, as compared to a build with interdisciplinary electronic medical records which improves workflows for dietitians everyday.  Ongoing IT support is provided to maximize quality of program output.  Implementation is completed within 30-60 days.  What are you waiting for?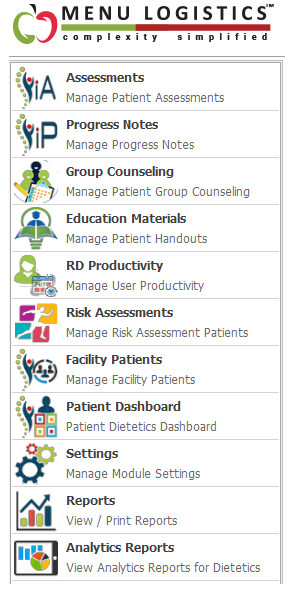 Eliminates the need for daily manual patient screening within the clinical nutrition department.  The system architecture supports automation of screening patient data that will define risk for each patient, generate a patient assessment list for each dietitian with unit assignment and organize the patient due dates by level of risk. This screening task is in real time 24/7, providing the dietitians with the most up to date assessment assignments all day, every day.  As a patient status fluctuates, the assessment list will automatically update if the risk level changes based on the patient status.
Formulary & Supplement Management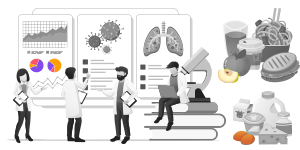 Equipped with intake analysis logic that includes the capability to interface intake reports from varying F&NS systems, integrate directly within the Menu Management System of ML, add outside food items, combine standing supplement and formulary items into an intake report and generate exact % of intake numbers against the exact nutritional panel for each individual recipe of each individual item served to the patient.  Using the USDA database codes for all items, the system links the precise nutrition panel for each.  The clinician is then able to understand specifically what % is eaten from each specific item served and adds the total for each meal into the report. This eliminates the guestimate technique that takes place in 99% of hospitals today, prioritizing the outcome of actual intake vs estimated needs so that the dietitian can make the most appropriate recommendation for each individual patient.
Analytic Report Generator
Dialysis Clinical Support